Welcome to the online home of USA Today
bestseller Kathy Carmichael!
---
FREE!
"Inspirational and thought-provoking."
~ Peggy Webb, USA Today bestselling author
Now Available!
---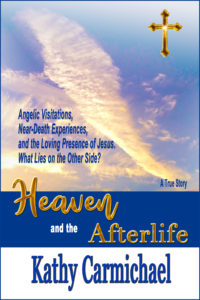 Now Available
Angelic Visitations, Near-Death Experiences, and the Loving Presence of Jesus. What Lies on the Other Side? A True Story.
Life can be miraculous. In August and again in September of 2016, I nearly died. Several times. But for the grace of God, I wouldn't be here now. What I experienced has forever changed me, and I hope my retelling these experiences will create good change in your life as well.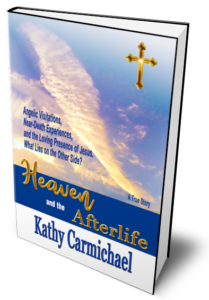 Anyone may have near-death experiences, visits from angels and the like. You don't have to be religious in order to have had similar experiences. It's not reserved for those who are particularly saintly, but be assured that once you've experienced an NDE (near-death experience), it will likely forever change you. But even if you've never had events like these happen to you, reading about them may be a catalyst for positive change in your life and you may never think about death in the same way again.
Holy Spirit was beside me as I recounted my experiences, I hesitate to say sat beside me, but I physically, mentally and spiritually felt the presence of Holy Spirit.
Journey with me as I recount my heavenly experiences and interactions with Jesus, saints and angels. It could change you forever, too.
---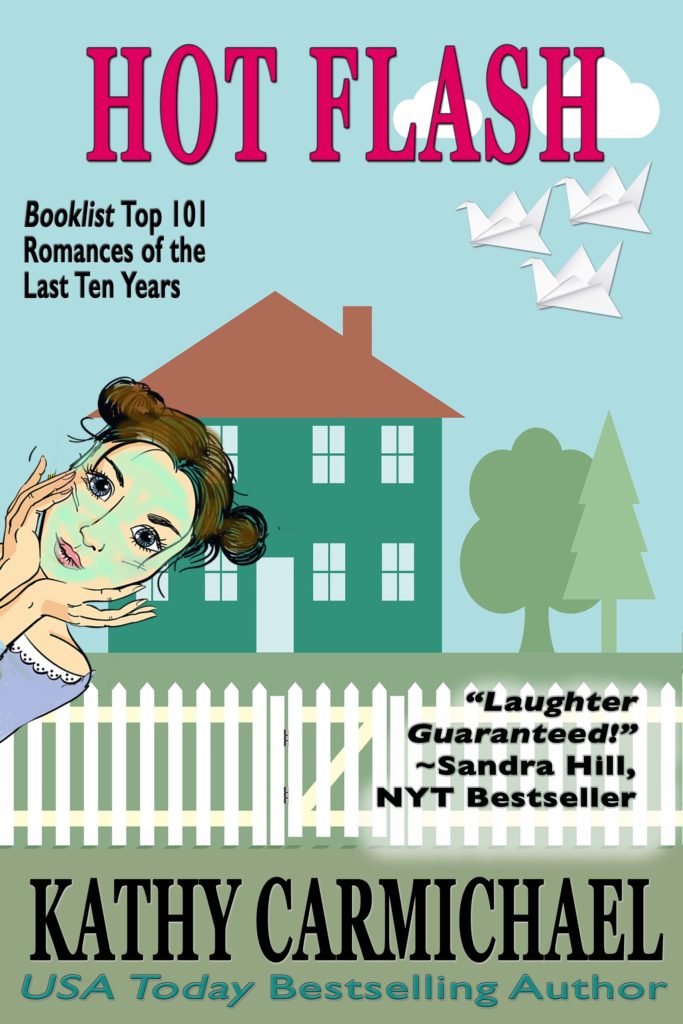 The Latest on Hot Flash!
The American Library Association's Booklist included Hot Flash in their 2015 and their 2017 list of the 101 Top Romances of the Last 10 Years!
Click here to read the 2017 list.
Click here to read the 2015 list.
BOOKLIST Starred Review! "The road to true love has many twists and turns, and Jill stumbles across all of them in Carmichael's delightful romantic comedy." ~ Shelley Mosely, Booklist
Just be warned: you may end up snorting milk out of your nose, with this one, or at the very least, gain a funny look or two from anyone in your vicinity, when you burst into a guffaw while reading. Don't say I didn't warn you. 😉 ~ Julianne Draper, Tampa Books Examiner
Five Cups! CTRR Award! I love, love, love this book! Ms. Carmichael has written a sensational novel that will leave you laughing throughout all of Jill's hijinks. Hot Flash is the story of what one woman will go through to give her child all he deserves. The way Jill jumps blindly into dating and comes out smelling like a disaster is hilarious. I especially loved the bikini wax episode. This is a book that has feel good chick flick movie written all over it. Pay attention book and movie fans alike because I would not be surprised to see this on the big screen! A laugh-out-loud treasure of a book for women and mothers of all ages! ~ Danielle Russell, Coffee Time Romance