Get your free ebook
Join Kathy's Readers Group Newsletter and
receive a free download of the novella
Your Magic Touch!

---

Now Available: The Lassoed Bride, the Texas Two-Step Series Book 2
A Novella. Six years ago, Barbara Palmer fell head-over-heels for cocky cowboy Ben O'Shea. He was devastatingly appealing, and he knew it. He had her heart—until the day he stood her up and disappeared. Now he's back, determined to take up again where they left off.
---

Now Available: Comedy & Cozy Bundle
Four complete stories: Sweet Romance and Cozy Mystery Reads from USA Today bestseller Kathy Carmichael. This boxed set features the first two titles from Kathy's Texas Two-Step Series and the first two from her Skullduggery Inn Cozy Reads Series.
"For charming romantic comedies, Kathy Carmichael never disappoints." ~ Debra Webb
---
Now Available: Line Dancing Bundle

TEXAS TWO-STEP Bundle — The First Four Titles — Contemporary Western Romance
Included in the Box Set: The First Four Titles in the Texas Two-Step Series: Western Pleasure, Chasing Charlie, The Lassoed Bride and Country Courtship
---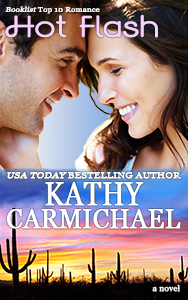 The Latest on Hot Flash!
The American Library Association's Booklist just included Hot Flash in their list of the 101 Top Romances of the Last 10 Years!