Digital re-release of Hot Flash and The Long Meow Mystery
I'm excited to announce these two titles are now available again!
(Originally published as Diary of a Confessions Queen)
Amy Crosby needs her husband dead — fast.
Not that she plans to kill him. He disappeared seven years ago. Amy just needs to have him declared legally dead to save her house from foreclosure.
Sounds simple.
But then someone keeps breaking into her house — and anonymously trying to blackmail her. She has a new housemate — an injured cat named Chappy — plus businessman Jerome Keller who wants to be her fiancé, and police detective Brad Tyler who just wants to protect her.
Her husband — legally dead or not — is stirring up a whole lot of trouble.
What's the recipe for a happy marriage?
That's what chef Jill Morgan Storm wants to know, and according to responses to the "Marriage Satisfaction Surveys" she and her closest friends cooked up, the answer is to marry a traveling salesman who is rarely home.
And Jill certainly deserves some happiness, after everything she's been going through. Her teen-aged son, who only speaks to her in French, needs college tuition. Her crazy mother is determined to find her a man—and only brings her unsuitable ones. A pesky schoolteacher keeps annoyingly trying to fix her life. Her sous chef job is in jeopardy, and, most aggravating of all, her ex-boyfriend has absconded with her favorite skillet.
What's a single mom to do?
Faced with the answers to her surveys, she sets off to find the traveling salesman who can share her dreams. Along the way, can she find herself and a man who will claim her heart?
Kindle Nook iBooks Kobo
My Favorite Corpse Free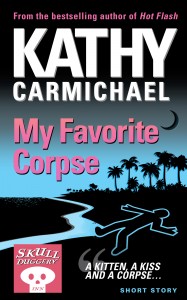 As I mentioned in last month's newsletter, My Favorite Corpse, the first novella in the Skullduggery Inn series is free as a digital book.
A Novella. My Favorite Corpse centers around Ashley Sands, the owner of the mystery-themed Skullduggery Inn located on the Eastern Shore of Mobile Bay. An amateur sleuth, Ashley finds a corpse washed to shore at her inn's private beach. She must learn what happened before her guests begin checking out. While Ashley's mystery weekend guests usually enjoy the occasional dead body, they prefer the never-previously-animated kind.
 Skullduggery Inn Cozy Reads:
My Favorite Corpse 
Mayhem on the Winterland Express
Suspects & Suitors
Something Borrowed, Something Deadly
My Favorite Corpse is now available on the following sites:
Winter!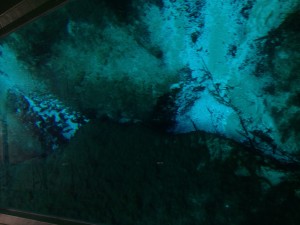 View from glass bottom boat at Silver Springs
I hope this winter is treating you gently! It's been kind of frantic here in the Carmichael household, but in the long run it looks like all of the scrambling will translate to good news down the line ☺ That's my story and I'm sticking to it!
The rights to my Texas Two-Step series are being returned to me, and the series will become temporarily unavailable after Valentine's Day. I plan to get the series back up as soon as possible, hopefully within days. But if you're currently reading one of the books in the series, you might want to quickly grab the others, or be prepared to wait a few days or so to snag the next one.
Because I'm scrambling for time right now, I'm sending a link to a darling video "Cats are Book Hogs" rather than creating one of my own this month. I'm sorry! But I promise one for my next newsletter! This is from Epic Reads (Harper Collins) and is precious!
Cats are Book Hogs Youtube video
New Monthly Contest
Based on feedback from you guys, you really liked how easy it was to enter my December contest. So I'm creating a new contest, using similar rules.
Starting with this month's newsletter, click on a link, any link, in this newsletter and you'll be entered into a drawing for a $10 gift card (Amazon or Paypal). The winner will be announced in my next newsletter ☺ This contest is for newsletter subscribers only ☺
Book Reviews
It's becoming more and more apparent that the number of reviews a book has, particularly on Amazon, the easier it is to place ads for the book. So I'm coming to you guys for ideas and feedback on what I can do to encourage more reviews. What makes you want to write a review? Do you need some kind of incentive for reviewing?
I have heard from readers who said they were embarrassed to review because they felt their writing wouldn't be good enough. Trust me, any kind of writing is good enough. Reviews are for other readers and they aren't judged on spelling or grammar! 
Until next time, I'm sending good thoughts and wishes your way!
Happy Reading!
Kathy Carmichael