Click on the image above to view Kathy Carmichael's July 2013 Video Newsletter.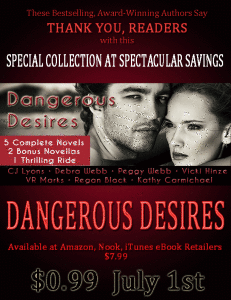 Dangerous Desires has special pricing! During the month of July this multi-author 5-novel and 2-novella romantic suspsense/mystery/thriller collection is only 99 cents. It can be found at:
It's a magazine-style booklet and you click the arrow to the right of the cover to turn the page 🙂
New! Text Alerts
Be the first to know! If you would like to receive a text from Kathy when she has a new release or special pricing on her books, text the word books to 77948 or visit her website and click on the "Text Alert" button in the right side bar.