Here Comes Trouble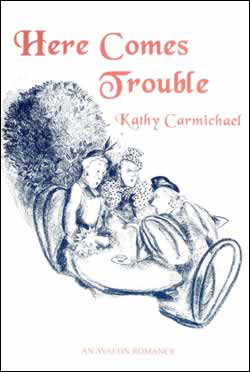 Coming soon in digital from Amazon Montlake Romance. Available now in hardcover.
*Sweet* Contemporary Romance.
In Here Comes Trouble, Stella and Quinn must overcome their pasts—and the meddling attentions of TROUBLE—to find true love.
*Dorothy Parker / Reviewers International 1st Place Award Winner*
In My Lady Mischief, Lady Thea must rethink her plans when Lord Hartingfield arrives on the scene in this Regency England romp featuring a madcap cast of secondary characters, including an adorable pig named Egbert.

A laugh a minute riot of a book ~ Kathy Boswell, Managing Editor, The Best Reviews,
Member, Reviewers International Organization (RIO)
Sparks fly and the electricity sizzles…. Another awesome winner by Ms. Carmichael! A rip-roaring, heart-tugging, page-turner that will make you wish you had match-makers of your own like the ladies of TROUBLE. ~ Maureen Boylan, ReaderToReader.com
From dumpster diving to save a homeless mutt, to a late night slug hunt, and water balloon bombs launched by the neighborhood menace, Kathy Carmichael fills this laugh out loud romantic comedy with scenes and characters you won't forget. And that doesn't even mention all the TROUBLE. Catch Ms. Carmichael's comedy…and get the charming happily-ever-after as a extravagant bonus that will leave you sighing contentedly for days. ~ Val Daniels, Harlequin Romance Author