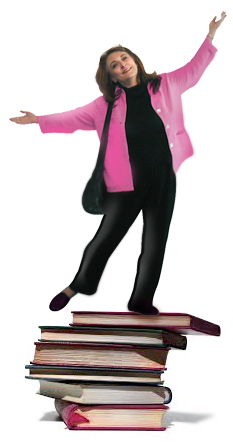 Read more books!
One of the world's best inventions was the book. I can't imagine what life would be like without them. I've met thousands of new people and visited places all around the globe without leaving my comfy chair. This is something every reader has in common with writers. We all love the written word.
Please kick off your shoes, lean back in your comfy chair and explore my website. I'm glad you've visited.

I hope you like my new website design as much as I do. I couldn't be more thrilled with it! If you notice anything I should add or update, but haven't, please let me know! Steve, Alysan and Craig are all awesome.
I've recently contracted with ePW to reissue my Texas series, which is now called The Texas-Two Step series. They're now live on all of the major e-tailers.
I'm super thrilled because Amazon Montlake Romance has issued an ebook version as well as a trade paperback version of my romantic comedy, Here Comes Trouble. You can find it here on Amazon.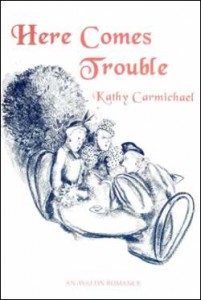 For the first time, The St Petersburg Times reviewed one of my books and it couldn't be a more lovely review! Here's the link to the review written by Times Staff Writer, Kate Brassfield.
Booklist Starred Review: "… Carmichael (Hot Flash, 2009) has created a thrilling whodunit in her trademark sassy, breezy style. Readers will enjoy her unique blend of humor and suspense."
~ Shelley Mosley, Booklist
"Sprightly humor and eccentric characters invigorate this chick lit cozy from romance writer Carmichael (Hot Flash)."
~ Publishers Weekly
"Mystery fans who enjoy bright women working through their problems and solving crimes along the way will love Amy. Carmichael (Hot Flash) knows how to deliver a zinger of a tale with plenty of action."
~ Library Journal
"This is a story for readers who love layers of kick-ass humor in a cozy mystery. It's a winner for Carmichael and her distinctive style."
~ Wil A. Emerson, Crime and Suspense Magazine
"Kathy Carmichael writes the most intriguing, funny, wonderful books."
~ Kathy Boswell, Fresh Fiction
"Fans will enjoy the antics of a heroine who plays the roles of her true confession characters and the cop fixated on her."
~ Harriet Klausner, MidwestBookReview.com
I was completely thrilled when the American Library Association's BOOKLIST magazine named HOT FLASH as one of the Top 10 Romance Fiction titles for 2009! Click here to read the complete list.
To help celebrate, the wonderful artists at Medallion Press created this cool banner.