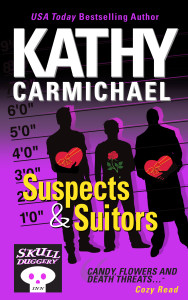 Suspect & Suitors
— A Skullduggery Inn Cozy Read
Click an icon to purchase.
---
*Sweet* Comedic Mystery.
A Novella. Suspects & Suitors centers around Ashley, amateur sleuth and the owner of a mystery-themed inn located on the Eastern Shore of Mobile Bay. She is up to her elbows in anonymous Valentine's suitors. Problem is, one of them is threatening her life.
Other Skullduggery Inn Cozy Reads:
Mayhem on the Winterland Express
My Favorite Corpse
Something Borrowed, Something Deadly
About Kathy's first mystery novel The Long Meow Mystery (previously titled Diary of a Confessions Queen):
Booklist *Starred Review* "Carmichael (Hot Flash, 2009) has created a thrilling whodunit in her trademark sassy, breezy style. Readers will enjoy her unique blend of humor and suspense." ~ Shelley Mosley