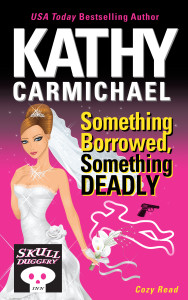 Something Borrowed, Something Deadly
— A Skullduggery Inn Cozy Read
Click an icon to purchase.
---
*Sweet* Comedic Mystery.
A Novella. When the groom is found murdered hours before the wedding, can bridesmaid, amateur sleuth and owner of the Skullduggery Inn, Ashley Sands, clear the bride from imminent arrest? With numerous suspects, all with strong motives, Ash must figure out who-dun-it before the murderer strikes again.
Other Skullduggery Inn Cozy Reads:
Mayhem on the Winterland Express
My Favorite Corpse
Suspects & Suitors
About Kathy's first mystery novel The Long Meow Mystery (previously titled Diary of a Confessions Queen):
Booklist *Starred Review* "Carmichael (Hot Flash, 2009) has created a thrilling whodunit in her trademark sassy, breezy style. Readers will enjoy her unique blend of humor and suspense." ~ Shelley Mosley