Chasing Charlie: A Western Romantic Comedy
— The Texas Two-Step Series, Book 1
Click an icon to purchase.
---
Booksense 76 extended list: Best Books Not to Make the 76, or Some More Good Books to Check Out
Raised in a family of rodeo champions on a South Texas cattle ranch, Charlie wants only one thing: to avoid thrill-seeking cowboys.
Davis Murphy, cowboy wannabe and one of Dallas's most eligible bachelors, needs a pretty and witty faux fiancée so his widowed mother will marry her longtime gentleman friend.
Charlie, his local librarian, seems the perfect choice.
Charlie's first reaction is to run, but she's promised herself to step out of her plain-jane routine.
When Charlie accepts, Davis's plan is set. But now Charlie's sweet ways are challenging his bachelor heart.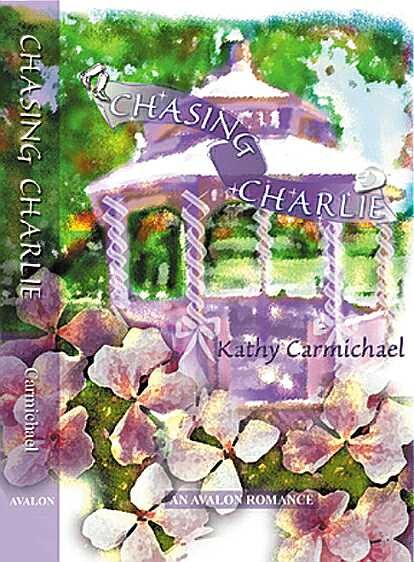 Previously published in hardcover from Avalon Books / Montlake Romance.
---
"Heartwarming, fast paced, laugh out loud fun." ~ Susan Fox, Best-selling author
"Chasing Charlie will chase away the blues with a red dress, a real love, and a whole lot of fun!" ~ Christie Ridgway, Best-selling author
"Funny, sweet, poignant…best feel-good book I've read all year." ~ Trish Jensen, USA TODAY Best-selling author
---
Excerpt from Chasing Charlie
With the prissiest barefooted walk she could manage, Charlie Nelson emerged from her bedroom wearing the gorgeous red dress. Joanne looked up and screamed.
"Charlie! I can't believe it!" Joanne ran closer and looked her up and down. "I had no idea you had all those curves."
Charlie laughed. "I don't think I do, but this dress sure makes mountains out of molehills, doesn't it?"
Joanne nodded. "I wish I had molehills like those. Wow." Then she caught sight of Charlie's bare feet and an impish look entered her eyes. "I'll be right back."
Joanne made a beeline for her bedroom and came out carrying a shoebox as if it held the crown jewels. She handed the box to Charlie.
Pulling up the lid and pushing past the tissue, Charlie found the deadliest looking stiletto heels she'd ever seen in her life. "Where'd you find these, Madame's Bordello of Love?"
Joanne flashed an embarrassed grin. "It was one of those buying binges. Once I got them home, I realized I didn't have anything to go with them. We're the same size. Try them on!"
They looked lethal, but before Charlie could figure out a way to decline Joanne's exuberant offering, the doorbell rang. For once, she'd been saved by the bell.
"That must be Mike." Joanne checked the wall clock as she headed for the door. "He's awfully early. I'm not dressed yet."
"He probably couldn't last another moment out of your company. It's been nearly twenty hours since he saw you." Charlie pirouetted, enjoying the feel of the satin against her skin.
"Yeah, right. And once he sees you in that, he may forget all about his poor little fiancée." She pulled open the door.
"Oh, Philip, uh, come in." She stepped back and swung the door wider, sending Charlie a questioning look.
Charlie gulped. What the dickens was Philip doing here, anyway? She'd made it clear she wasn't going out with him tonight, or any more for that matter.
Philip stalked confidently into the apartment, then caught sight of Charlie and stopped dead in his tracks. For the first time, Charlie saw a man's eyes boggle.
It must be the dress.
Philip smiled. "The roses must have worked, since you're dressed and ready."
Joanne sniffed. "She's allergic to roses."
"Oh. I'd forgotten."
Of course he had. Perhaps that had been the trouble. He'd considered her more of an accessory than an individual.
Joanne began to close the door but stopped on the threshold. "Well hello," she said slowly, her voice dropping an octave. "How can I help you?"
"I'm looking for Charlie Nelson," came a man's voice.
Charlie looked from Philip, to Joanne gaping at the door, to the ceiling, wondering what could possibly happen next. Somehow, the voice seemed familiar. She took a step past the leering Philip, closer to the door.
"Come right in," Joanne told the man at the door.
And Charlie knew exactly what was going to happen next. She was going to expire right on the spot, because it was none other than Davis Murphy, the man who'd asked her to be his pretend fiancée. How on earth had he found out where she lived? Just as she was about to ask exactly that question, Philip grabbed her arm.
"What's going on around here? Who is that man?"
Davis overheard Philip's question. He grinned and took Charlie's other arm. "I'm her date."
"I think you're mistaken. Isn't he, Charlie?" He smiled victoriously at Davis. "I'm her date."
Charlie understood how a tender morsel felt when being chewed over by two dogs. The room choked with male hormones. "Philip, I told you this morning that I'm not going out with you any more."
"What about the roses?"
Charlie shook off the hands of both men, then dashed down the hall to Joanne's room. She grabbed the bucket of roses, returned to the living room and pushed the pail into Philip's arms. "Here."
"I don't get it."
"I'm allergic to them."
Joanne, still standing at the open door, laughed her head off. "There aren't any others coming, are there? And you said you'd planned a quiet night in front of the TV."
"Very funny," said Charlie as Joanne shut the door.
"I wouldn't have missed this for anything." She crossed the foyer and joined Philip, glaring at his flowers. Davis looked smugly arrogant.
"Do you have another bucket for these?" asked Davis as he held out a dozen daisies. How had he known they were her favorite flowers?
"I'll take care of them," Joanne assured him.
"Grab your shoes and let's go, Charlie," said Davis. "I don't want to wait around for more competition to arrive."
Joanne shoved the shoe box into his hands.
Charlie fought for control. Had she been plopped into some stage farce and not given her lines? She couldn't get a word in edgewise.
Philip pulled a ring box from his pocket. "I thought we had something special, Charlie. I know I waited a long time before declaring myself, but when you broke our date, I knew the time was right."
As he started to go down on the proverbial bended knee, Charlie grabbed Davis by the arm. "Get me out of here."
"You got it, babe." He stuck the shoe box into Charlie's arms; then, like a caveman, he swept her into his arms and carried her to the door. Joanne ran ahead and opened it. Davis grinned as he left the apartment.
Philip ran behind them. "I think I deserve an answer, Charlie!"
Davis turned back. "I just took her over the threshold, old man. Personally, I'd take that as a sign if I were you."